A woven, natural silk rug with regular cleaning can last for centuries. Capital Rug Cleaning offers professional silk rug cleaning services in Maryland, Washington DC, and Northern VA.
Our Process
We take all of the guesswork out of the treatment process and ensure no damage is done to the delicate material. All work is done in our state-of-the-art cleaning facility, where we determine the best cleaning technique and method that suits your silk rug's particular characteristics.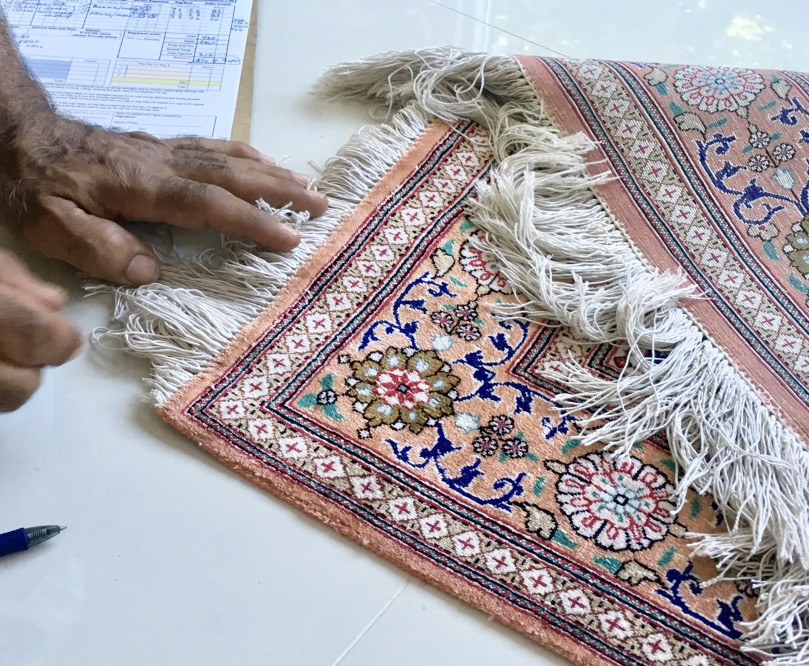 "Great work! I highly recommend using them for rugs you want treated well. They offered convenient pick-up and delivery."
Richard / DC
Types of Silk Rugs
Persian Silk Rugs
Turkish Silk Rugs
Egyptian Silk Rugs
Chinese Silk Rugs
Indian Silk Rugs
Antique Silk Rugs
Wool and Silk Rugs
Bukhara Silk Rugs
Nain Silk Rugs
Isfahan Silk Rugs
Tabriz Silk Carpet
Qum Silk Rugs
Heriz Silk Rugs
Silk Kashmir Rug
Silk Prayer Rugs
Professional Silk Rug Cleaning & Care
Regular vacuuming will keep dry soil from working its way deep into the mat where it will begin tearing fibers apart. However, avoid vacuuming the fringe and set the beater brushes at their highest setting or it may agitate the fibers too much and ruin their texture.
Cleaning is necessary when soil buildup affects the look or feel of the rug. It's easy to tell when there's too much soil present by picking it up and striking it gently. If this releases a cloud of dust, it is time to treat the material.
Dry stains should be gently removed without liquid if possible. Wet stains should be blotted up and treated with water. This material is highly sensitive to hot water, which can denature the proteins and cause the material to break down. For this reason, washing should always be done with lukewarm water instead. Also, most treatment chemicals will cause damage to the material, which is another reason most people consider consulting with a professional.