We offer complete moth proofing services for your Persian wool and Oriental rugs. Our thorough rug washing process will eliminate all signs of moths, beetles, and larva.
After your rug is washed and completely dry, moth repellant solution is professionally applied and laid to be completely dry.
Mothproof your rugs today!
Non-toxic.
Family and pet safe.
No scent, odor, & does not change rug appearance or feel.
Effective for up to 1 year.
What to Avoid
Do not use moth balls or flakes. These materials have little repellent effect and the odor imparted to the rug can be difficult to remove.

Identifying Carpet Moths
An infestation often involves more than one rug and can spread to (or from) woolens, furs, or sweaters. You may not notice any problems until it is too late. At the first sign of a problem, call 443-883-5825 for expert help and guidance.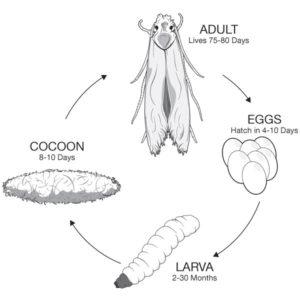 How to Spot Moth Damage
When inspecting your area rug, pay close attention to check for bald spots in the pile. Delicate moth netting covering part of the rug's surface can usually be seen in severe infestations.
Eliminating Moths & Carpet Beetles
If your rug is infected or you're seeing signs of early infestation, remove and inspect your rug for damages. Regardless, you should immediately remove your rug from your home. Call us to learn what the best course for action is.
The Best Way to Prevent an Infestation
The best way to prevent an infestation is periodic inspection of rugs, whether stored or not, as well as the carpets and wool, silk and cotton textiles in your home. Particularly areas under furniture. Moths can hide under rugs too, especially under a rug on over hardwood floors (in-between the cracks).