We offer complete moth proofing services for your Persian wool and Oriental rugs.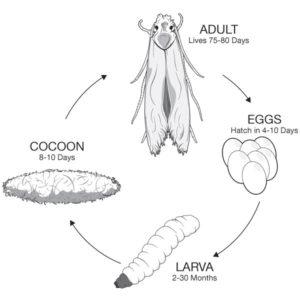 This is usually best done after we properly clean your rugs in order to eliminate any infestation of moths, carpet beetles or silverfish. Upon completion of cleaning your rugs, we can apply a mothproofing that is effective in the prevention of insect damage to your rug.
Oriental Rug Moth Infestation
If your wool rug is infested with moths, it is very important that your rug be removed from it's current setting and washed professionally right away. It will be very likely that your rug will have moth damage.
An infestation often involves more than one rug and can spread to (or from) woolens, furs, or sweaters. You may not notice any problems until it is too late. At the first sign of a problem, please call our office at 443-883-5825 if you have any questions. We are prepared to help you in any way we can.
Mothproofing Wool Carpets
We recommend that wool rugs which are be covered by furniture, or in dark parts of the home – to be sprayed with moth repellent after washing. It's non-toxic – family and pet safe. It will not leave a scent and cannot be seen on the rug. We do not use moth balls or flakes– these materials have little repellent effect and the odor imparted to the rug can be difficult to remove.
The Best Way to Prevent an Infestation
The best way to prevent an infestation is periodic inspection of rugs, whether stored or not, as well as the carpets and wool, silk and cotton textiles in your home. Particularly areas under furniture. Moths can hide under rugs too, especially under a rug on over hardwood floors (in-between the cracks).