Cleaning Process Overview
Our cleaning process is customized for each individual rug removing risks of dye bleeding, cross contamination, shrinkage, or damage – while eliminating stains, odors, and contaminates.
Our rug cleaning process starts with inspection followed by dusting. This is important as grit deeply embedded can act as sand paper causing deterioration and damage to the foundation of the rug and needs to be removed before wetting the rug.
Inspection Dye-Bleed Test
Rug Dusting
Soak & Hand-Wash
Scrub, Rinse, Scrub, Thorough Rinse
Drying
Fringe Cleaning
Wrapping & Delivery
Types of Rugs We Service
No two handmade rugs are the same. Almost every carpet has a unique condition that requires a customized process. We carefully inspect and analyze construction, condition, and dyes to avoid damage.
Braided Rugs
Handmade Carpets
Hand-Hooked Carpets
Hand-Tufted Rugs
Flat-weave Rugs
Hand Woven (Kilims/Dhurries)
Fine Persian Rugs
Antique Rugs
Flokati/Shag Rugs
Tapestries/Needle-Points
Machine-Made
Karastan Rugs
Wool Rugs
Wool/Silk Blended Rugs
Pure Silk Carpets
Cotton Rugs
Cowhide Rugs
Olefin/Polypropylene Carpets
Viscose Carpets
Natural Fiber Carpets
Synthetic Carpets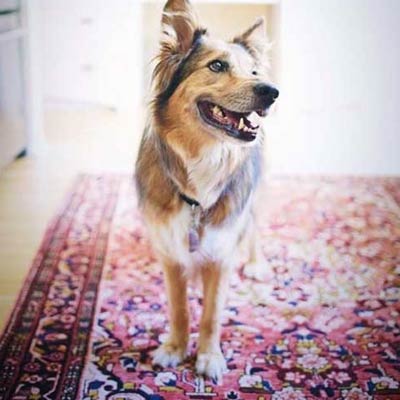 Pet Stains & Odors
Our in-plant rug washing and thorough rinsing and drying process removes all pet contaminations and odors.
These tough odors may not be fully removed by our deep washing process, so we recommend deodorizing services depending on the state of your rug. Rest assured when your rug returns to you, it will smell fresh and free of all previous odors.
Learn more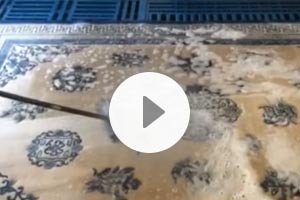 7-Step Rug Washing Process
Professional rug cleaning is recommended every 2-3 years. Our hand washing process eliminates residues, allergens, dirt, stains, soil & toxic substances – cleaner & healthier for you & your family.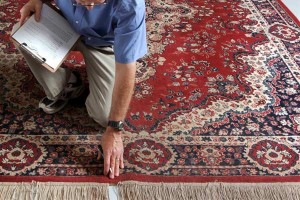 1. Inspection & Dye Bleed Testing
Your rugs are measured and the rug dyes are inspected for bleeding. We look for pre-existing damages. We'll point these areas out and provide an estimate for repair plus best course for action, whether it's necessary or worth the investment. All repairs will be done before washing to eliminate chance of any further damage. Read more about our rug repair services here.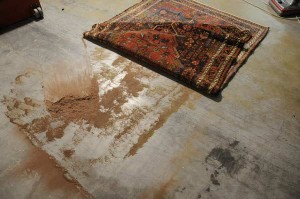 2. Rug Dusting
Dusted front and back. Settlement of dust, sand, or grit lay at the foundation of your rug and reduce the life of a oriental carpet by causing premature wear. Your rugs are dusted to bring out these particles. An extremely important step in cleaning rugs, it cannot be preformed in your home, by a commercial wall-to-wall carpet cleaner.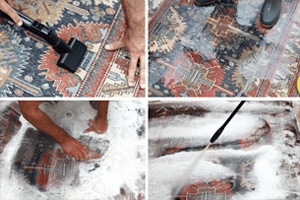 3. Soaking and Hand-Washing
Soaked front and back with plenty of clean, cold water, rug shampoo (non-toxic) is applied and then hand washed – scrubbing direction going the way of the rug pile. All work is gently done by hand to insure that no damage is caused.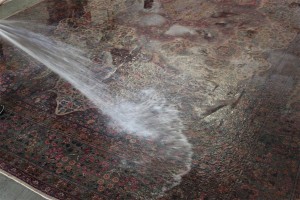 4. Thorough Rinsing
We'll rinse and squeegee the front and back to remove the remaining rug shampoo, contaminants and particles completely. We make sure no residue of any cleaning or spotting agents is left in the rug.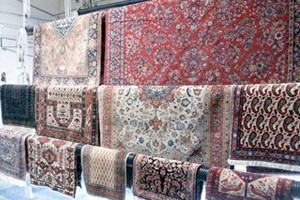 5. Water Extraction & Drying
Any remaining water is extracted from the your carpet using an extraction vacuum. There is no dripping. The rug is carefully hung to dry in a temperature controlled room with filtered air drying conditions.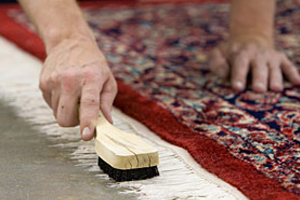 6. Fringe Cleaning & Maintenance
We pay special attention to the fringe and hand brush them once more after washing. We never use bleach – will break fibers. Damaged fringe, whether your fringe has been chewed off by your pets, torn by the vacuum cleaner, or worn off from heavy foot traffic, you do need to take action it right away. If left uncared for, my increase damage by unraveling the rug knots over time.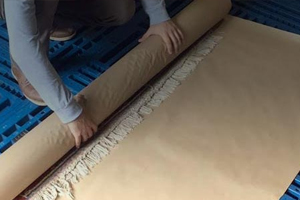 7. Wrap for Pickup or Delivery
The rug will be wrapped for protection. A staff member will notify you for pick up or schedule a delivery. When your rug is delivered, it will be placed exactly where you desire. We will move furniture for no additional charge.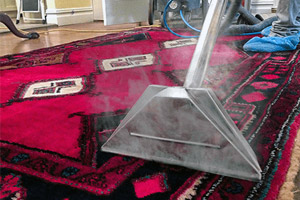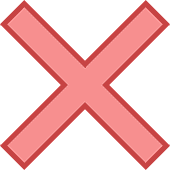 Avoid Steam Cleaning Rugs
When a cleaner attempts to clean a rug in the home with a hot water extraction machine (better known as steam cleaning) the top half of the rug in most cases becomes saturated with detergent while the bottom half remains untouched by the detergent.
As quickly as the solution is sprayed onto the rug it is extracted by the machine's vacuum. This process never really gets the dirt and grit out of the bottom half of the rug's foundation.
This is problematic, especially with wool rugs. Dirt bearing water which is not extracted from the carpet can result in soggy carpet, browning or wicking, mildew, shrinkage, or damaged backing, padding and floors.
If your rug needs cleaning or repair, we will explain what can be done and provide you with a cost quote.