The most expensive Persian rug ever sold, a beautiful Persian Kerman, sold for nearly $34 million at a Sotheby's auction in New York City on June 2013.
First Half 17th century
More than tripling the previous record price paid for a rug, the amazing piece that sold today at Sotheby's is a fantastic work of art of the highest order. Shattering pre-auction estimates and all records for the highest prices ever fetched for rugs, the sale of this magnificent Kerman marks something of a watershed moment, as antique rugs become an ever more desirable commodity and establish a very firm footing in the highest rungs of the art world.
Vase carpets such as this piece are extraordinarily desirable, a fact that was only underscored by the tremendous price fetched by this impressive carpet today. Approximately 8ft. 9in. by 6ft. 5in. (2.67 by 1.96m.)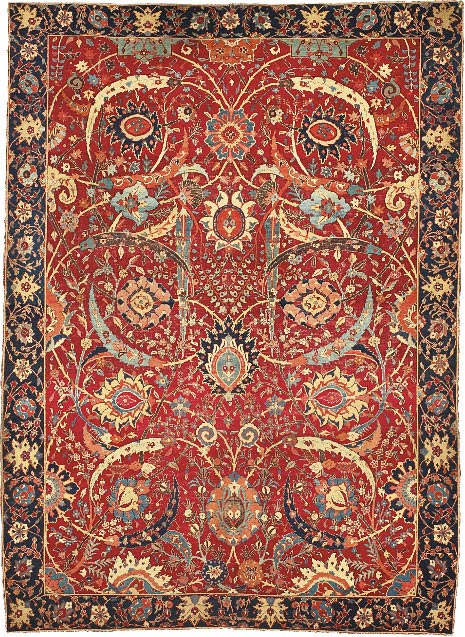 Exhibited
DC, Corcoran Gallery of Art, Carpets for the Great Shah, October 3 – NOV 16, 1948
DC, The Textile Museum, From Persia's Ancient Looms, January 23 – SEP 30, 1972
New York, Asia House Gallery, Shah 'Abbas & the Arts of Isfahan, OCT 11 – December 2, 1973
Cambridge, Fogg Art Museum, Harvard University
Isfahan, JAN 19 – FEB 24, 1974
Sheffield, Mappin Art Gallery, Carpets of Central Persia, 1976; also travelled to Birmingham; City Museum and Art Gallery
DC, The Corcoran Gallery of Art, The William A. Clark Collection, APR 26 – JUL 16, 1978
London, Hayward Gallery, The Eastern Carpet in the Western World, May 20 – JUL 10, 1983
DC, Arthur M. Sackler Gallery, The World at our Feet. A Selection of Carpets from the Corcoran Gallery of Art, ARP 4 – JUL 6, 2003
DC, Corcoran Gallery of Art, Masterpieces: European Arts from the Collection, AUG 25, 2007 – JAN 6, 2008
Source: Sothebys.com