Kilims are flat weave carpets and less durable than handmade wool rugs with a high pile which protects the warp and weft. It is recommended that Kilim carpets be professionally hand-cleaned every 2-3 years (12-18 months for high traffic placement).
Routine clean by vacuuming.
Did You Know?
One 9 X 12 Kilim takes about 5 – 6 months to weave, hand-woven by four-five artisans, working 5 – 6 hours a day.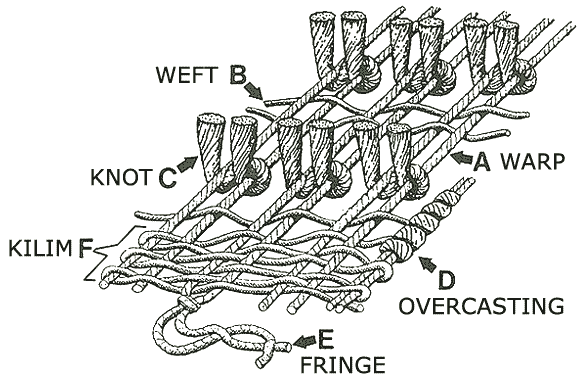 Kilim Weave Style
Warp – Foundation of the rug. Parallel threads running through the entire length of the rug which knots are tied.
Weft – Strength element for the rug. Threads woven across the width of the rug inserted between all the rows of knots. Weft threads pass through alternate Warp threads.
Knot – Main part of the rug. Strand of wool or silk is looped around two adjacent Warps, and then cut to form the surface of the rug.
Overcasting – Also referred to as the binding. Yarn is wrapped along the length on both sides of the rug to help keep the knots secure.
Fringe – The visible continuation of the Wrap threads at both ends of the rug. The length of fringe does not signify quality.
Kilim – The weaving web of Warp and Weft at both ends of the rugs between the pile portion and knotted Fringe.
What to Avoid
Washing Machines
Dryers / Vibration
Extremely high water temperature
Harsh chemical detergents
Electric rotary brushes
Soaking the carpet